---
Last month I wrote this about truth.
Since then I've seen a really interesting victory for lies.
There were lots of them involved in the Brexit vote, so I'm not going to cover them all, but let's just take this big one as an example: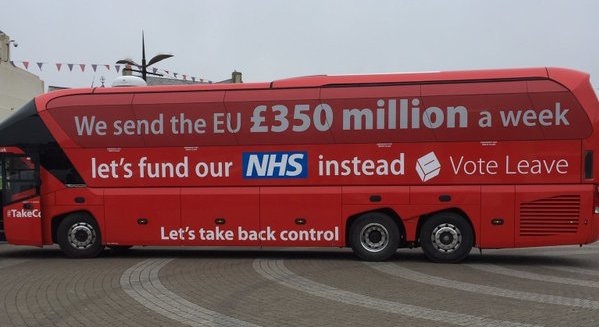 After the vote happened this explanation was offered:
People calling this out have since been referred to as 'pedants'.
And the Brexiteers got in on the promise on reducing immigration, but that was all bollocks, too:
OK, no judgement here about the content of those lies. Instead, let's look at a world where colossal lies are becoming normal, accepted and a key weapon in any attempt to persuade large numbers of people on a position that might seem less than appealing.
In America Donald Trump has spent the last twelve months fibbing his bottom off about pretty much every single issue pertaining to his attempt to become the US President. And where has it got him? He's seen off 16 other candidates, some of whom foolishly decided to tell the truth, to become the presidential nominee of the Republican Party. Hillary Clinton, by slight contrast has only employed some form of mendacity in around half her statements to become the Democratic Party's nominee.
So lying works! Hooray! Forget all that silly guff I said about telling the truth. It's a massive waste of time!
But how has this become the case? Haven't we all been brought up to consider lying to be a bad thing? Won't people think that if a person found communicating through barefaced lies might do so again? And that would be bad, right? If Donald or Hillary get in they might well lie to the American people. Nigel Farage and Boris Johnson might also do the same in the UK. How can we trust them?
Well, it doesn't seem to matter. Either we've come to accept that politicians will lie to us or we've come to view lies as not that bad after all. Did people stop buying VWs after they lied about their CO2 emissions? I'm going to guess that not many people gave a fuck. So what's the incentive not to lie? Is there one? If you tell the truth in a way that leaves you at a disadvantage are you just some kind of weak-ass Colonel Blimp character? Do we all now have to play the game of presenting ourselves in an a way that dishonestly exaggerates out attributes and conceals our faults?
I've written in the past that the advertising industry has normalised exaggeration (or 'dramatising the benefit'), so someone who wears Nike trainers goes on such a long run that his wife doesn't recognise him when he returns:
Prices are so shockingly low that people who see them are dangerously distracted:
Sony's colour TVs are so amazing, watching them is as breathtaking as this:
But that's fine; we all know they're ads, so we know the score: they're talking shite to make a small benefit look amazing. If they were realistic about what they were selling the ads would be boring, so that's an obvious no-no (sarcasm emoji required).
Then again, people say the same thing about politics: practitioners in that field are expected to lie, so when they do (even if we might have no idea they're doing it) we should just accept it, or others will suggest we're idiots for doing otherwise.
Have we slowly created a world where lies don't matter? I know politicians have misled us in the past, but the difference back then was that the public tended to be annoyed when that happened.
With no adverse consequences for lying, human beings are going to do what they always do: stretch the boundaries of what is acceptable until they snap. But will they ever snap? It'll be interesting to see where the Brexit situation leads, and whether or not Donald's lies damage his chances of becoming president. Until then, though, I'm just going to chill out from my expedition to the top of Everest by polishing my six Oscars and writing a few more songs for Bob Dylan.
UPDATE (there might be a few of these):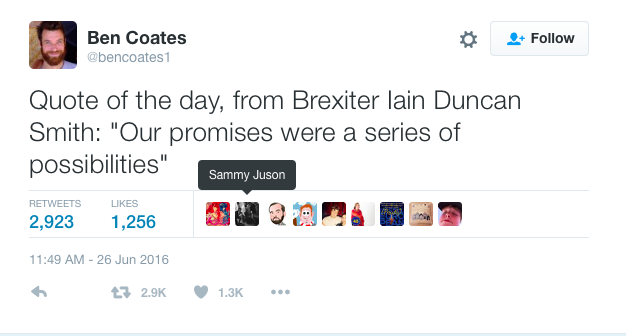 ---
---
---
---
---
---
---
---
---
Blogroll

Download the Water Water Everywhere app

Follow Me On Twitter

My advertising work

Purchase my novel

Who Is Ben Kay?

Archives