You might have heard of the recent kerfuffle surrounding Kevin Roberts, the now-former Saatchi and Saatchi Chairman and 'head coach'.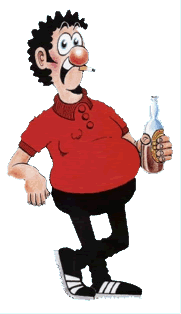 Kevin, a couple of weeks ago.
He said, "Edward de Bono once told me there is no point in being brilliant at the wrong thing — the fucking debate is all over. This is a diverse world, we are in a world where we need, like we've never needed before, integration, collaboration, connectivity, and creativity … this will be reflected in the way the Groupe is."
I have to say that I love the lack of self-awareness. Edward de Bono once told Kev there's no point being brilliant at the wrong thing, so he went ahead and showed his brilliance at sexism, messing up interviews and alienating his workforce. Not sure those were the right things.
Anyway, here's his apology (Kev's bits in bold):
"Fail Fast, Fix Fast, Learn Fast" is a leadership maxim I advocate.
Along with 'get yer tits out for the lads', I assume. Not sure why we should give a toss about the leadership maxims Kev advocates.
When discussing with Business Insider evolving career priorities and new ways of work/life integration, I failed exceptionally fast.
Yep. Those parts of the interview definitely passed most of us by.
My miscommunication on a number of points has caused upset and offense, and for this I am sorry.
I fucking hate non-apologies disguised as apologies. Apparently it was his 'miscommunication' that caused 'upset and offense', not his sexism, arrogance or pathetic, outdated attitudes towards women. So he made a little error? He meant to support women/diversity etc. and is so crashingly thick that he ended up expressing opinions that were the opposite of the ones he truly held? Not a ringing self-endorsement for the chairman of a massive global corporation. And maybe he's just sorry for the 'upset and offense' he caused. That's the real hallmark of the non-apology. He's not sorry for his opinions, he's sorry that some of us were upset about them. You see, it's kind of our fault. Especially the ladies, who are probably still dancing around Kevin's imagination in some weird little 1980s cocktail party where they all want to listen to his bons mots before giving him a most lavish and grateful humping.
I have inadvertently embarrassed Saatchi & Saatchi and Publicis Groupe, two companies I love and have been devoted to for almost 20 years.
I have expressed my regret and apology to the companies for the furor my remarks and language stimulated, and I extend this to colleagues, staff and clients.
Again, he's sorry for the 'furor', not the words or the sentiments they expressed. And originally he only said sorry to the companies (what did he do? Walk up to the headquarters and bellow an apology into the bricks and mortar? Maybe he cried over some headed notepaper), but he's now graciously extended this to 'colleagues, staff and clients'. The rest of us can apparently go and whistle, but then the furor was kind of our fault, so why would he apologise to us for something we did?
So that we can all move forward, I am bringing forward my May 1, 2017, retirement from the company, and will leave the Groupe on September 1, 2016.
He's doing that so 'we' (not sure who the 'we' refers to) can move forward. Unlike his views, which are stuck in 1957. So he wasn't fired, he didn't resign, he just brought his retirement forward by a few months. What a sacrifice. I wonder if he'll be declining his inevitable financial compensation. Pardon me if I doubt it.
There is a lot of learning to reflect on, and within the thousands of tweets, comments and articles there are many powerful and passionate contributions on the changing nature of the workplace, the work we do, what success really looks like, and what companies must do to provide women and men the optimal frameworks in which to flourish.
I believe that new thinking, frameworks and measures are needed to make more rapid progress on diversity in all its forms, in all professions and occupations. Hopefully, the focus on this serious and complex issue will gather momentum.
He can say that again, with much of the new thinking hopefully occurring between his ears.
So thanks for that, Kev. Despite the revelation that there used to be a bit of a twat at the top of one of advertising's largest companies, I'm glad the response to this gaffe has led to a greater focus on the diversity issue (including a priceless offer from Cindy Gallop to help Saatchis learn about gender diversity for the same salary Kev was on). Every cloud…