Stef Jones (along with his longtime creative partner, Tom Burnay) is the founder of Big Al's Creative Emporium.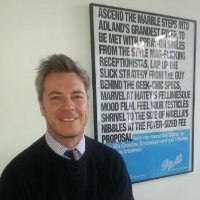 For those of you unaware, it's that very rare thing: a successful ad agency founded and run by a pair of creatives.
How does that work? Well, have a listen to our chat and you'll find out. If you still have any questions, do drop Stef a line at stef@bigalscreativeemporium.com or pop into Big Al's Creative Emporium, 1st Floor, 77 Dean Street, London, W1D 3SH.
Otherwise, press play on your listening device and hear about the following…
The choice of paths in your thirties.
'Better, quicker and costing less'.
Lots of starts and stops.
No premises, funding, staffing etc.
200 business cards as a metaphor for personalities.
Learn from lodging in a production company.
Little detour making a TV show.
Great creatives made available because they were squeezed from the new digital depts.
Creative client contact=smoothness.
Every client has their own level of creativity.
The three commandments.
Women 'of a certain age'.
Once you commit the stars align.
Have lunch as cheaply as you can with as many people as you can.
Planning=somebody to tell you 'why'.
Is it a big fucking hassle?
You either get it or you don't.
Who finishes the work?
The Last Minute hypocritical anomaly.
Here's the chat, the iTunes link and the Soundcloud link (apologies to you and Stef for a slightly abrupt ending, but it's only a few seconds missing off the end).