I sent a picture to my CEO the other day: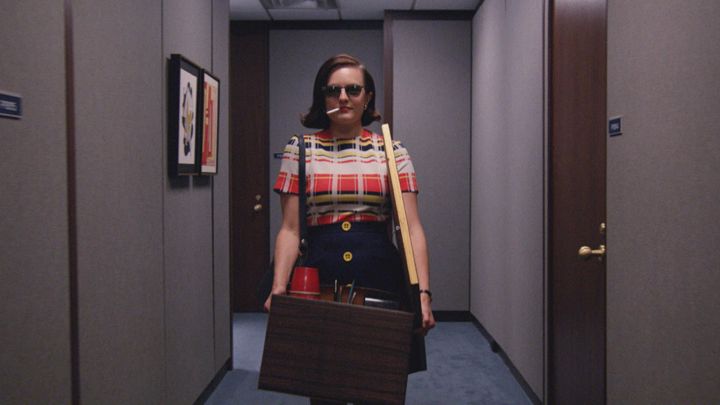 For those of you who aren't fans of Mad Men, it's the shot of Peggy Olson joining a new agency at the end of the show: sunglasses indoors, cigarette jabbing perkily from a pair of bright red lips, groovy clothes, a box of random possessions, and a shitload of insouciant, defiant swagger.
That used to be the personification of the advertising industry, which is why so many of us wanted to be a part of whatever it had to offer. It was hard-drinking, long-lunching and Ferrari-driving. But it was also the creator of loved and famous additions to culture, and it inspired water cooler conversations, catchphrases and admiration.
(Yes, the lifestyle did tend to breed and attract a few too many arseholes, and there were plenty of distasteful aspects of the industry that belong back in the egotistical 1980s, but this is about the good bits, so let's concentrate on them.)
Did the salad days precede the swagger, were they born from it, or did they feed each other? Probably a little of all three, but the confidence of the people involved wasn't misplaced; it existed because they were often responsible for confidence-worthy work.
Shall we get an Oscar-winning director to turn hundreds of people into a moving face for British Airways? Of course. How about filming an S&M based, hypercolourised acid trip on behalf of Dunlop? Sounds good. Any chance of making an epic helicopter trip through the Arizona desert to sell Benson and Hedges? Step right up.
Advertising thrilled, amused and stuck in the memory for decades. I even recall an entire cinema applauding Levi's Drugstore, which was far better than the film they had paid to see.
Now, I can see you nodding along (or shaking your head at what might seem like some misguided, romanticised version of the distant past), but you're probably thinking that the generation of swagger is not an easy task. You don't just turn on the tap and down a pint of it when you're feeling small.
That's true, but it would be irresponsible of me to extol the virtues of massive amounts of self-belief without setting forth a plan for acquiring it, so here's how it's done:
First ask yourself what you're trying to achieve when you create an ad? I suspect the answers differ depending on the client and the brief, but these days the words 'win some awards' will somewhere near the top because they're still the only measurable currency of supposed excellence, and the fastest route to a raise. But what about… let's see… fame? Or the country repeating your endline for the next ten years? Or a taxi driver reciting your own commercial back to you as you bask in the warm glow of his or her delighted appreciation?
Surely those situations would be better than a mere Cannes Silver.
If we aimed for such riches we would be infused with additional swagger. The mere setting of such momentous goals would put a spring in your step and twinkle in your eye. Perhaps just a little at first, but then the various littles would would combine to create something bigger, until eventually they'd add up to a lot.
And that's when the ball really starts rolling: the experience would start to become infectious as the rest of your agency saw how you rolled and wished they could knock back a shot of whatever you were drinking. And when they tried it they'd want more.
Then the people who currently design video games for Rock Star and algorithms for Spotify would wonder who came up with that cool, witty, deep human truth on the side of the bus that just drove by, and who made it look so damn eye-catching. And when they found out they would cast envious glances in your direction.
Newspaper headlines would make puns based on sentences you wrote. Tom Cruise and Graham Norton would mimic that funny dance you came up with. Lil Nas X would drop your jokes into his upcoming collaboration with Right Said Fred.
And the swagger would grow.
So let's go back to the days when the country waited breathlessly for the next Levi's ad, then sent its soundtrack to number one. Let's paper our cities with Economist lines that make people think 'Whoever came up with that is a fucking genius (and I now want a copy of The Economist)'. Let's write scripts so good that Paul Thomas Anderson and Daniel Day Lewis want to bring them to life.
Yes, there are benefits to fear if you use it in the right way, but swagger is what you should be aiming for. Now go to Selfridges, treat yourself to a Mont Blanc Meisterstück 149 Fountain Pen, crack open a brand new layout pad and show the world exactly what it's been missing.