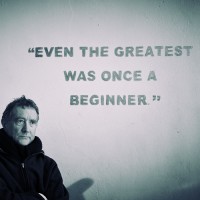 Stephen was the 25th employee of Bartle Bogle Hegarty, which means he saw it grow from a very good agency to the best in the country in a few short years.
After a stint on Audi he became the first account guy on Levi's, so we talked all about that. If you grew up in the 1980s that was probably the biggest, best ad campaign you'd ever seen. It made a whole country change their choice of underwear, its soundtracks routinely went to number one, and every new execution was news. Actual newspaper news, nor 'a little column in Campaign' news.
Here are some of the ads we discussed:
But as he rose to board level, appropriately enough, he got bored. So he decided he liked the idea of working on the production side, jacked in his high-flying job and went right back to the bottom again as a runner, taking out the bin bags.
But then he ended up running a large production company called Large, before founding his own companies. He's currently the founder/owner of Unltd Productions, with a stable of excellent directors.
Here's the iTunes link, the Soundcloud link and the direct play button thing: