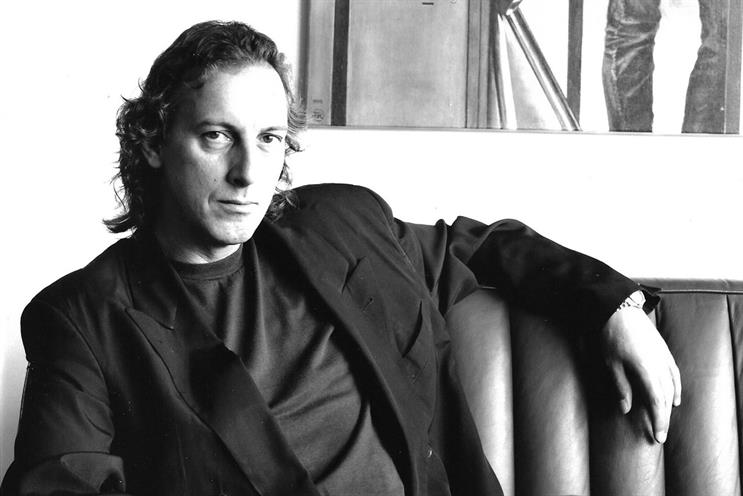 It would appear that one way of measuring the man (or woman) is by the calibre of people who want to mark his passing. In the case of Richard Foster, you can find Tony Brignull's eulogy in Campaign, Paul Burke has added his to The Drum, and I now find myself in the position of hosting one from someone who worked under him, learned a lot, then took those lessons into the leadership of other agencies: Nick Bell.
Over to you, Nick:
A loving tribute to the man who helped make me.
Two things happened recently that moved me to write this.
First, I read Ben's excellent analysis of David Abbott's 'Would you like to sit next to you at dinner?' for The Economist.
Then, just a couple of days later, I received the awful news that Richard Foster, my immediate boss in my days at Abbott Mead Vickers, had died.
There are many people ahead of me in the queue to write about Richard – friends, peers and colleagues who were closer to him and who knew him better.
But just as when David died in 2014, I have been feeling a significant sense of loss these last days – the loss of a man who profoundly influenced not just my career but also my life.
And so I want to pay my personal tribute to Richard.
Not just Richard the outstanding writer who, together with his long-time creative partner John Horton, created so much outstanding work, including not a few excellent Economist executions.
But Richard who gave me my break at one of the world's greatest agencies and who, through his guidance, so informed what I was able to go on to do.
Richard hired Greg Martin, my art director partner, and me in 1987.
We had been working for Mick DeVito and Derek Day at the then Ted Bates and, with Mick and Derek resigning to set up their own agency, we were desperate to get out.
We would have been happy to take a pay cut from our lofty £13,000 a year salaries to work at Abbott Mead Vickers but when Richard called to offer us the job, he also offered us a rise to £18,000.
Heady times!
But as much as it felt an achievement to secure a job at the great AMV, Greg and I soon realised the hardest part was still to come.
As well as being, beside David of course, the most talented writer in the agency, Richard and his art director John Horton were one of three Group Head partnerships in the creative department (they call them creative directors these days).
Richard and John took this responsibility, like their work, extremely seriously.
And Greg and I were about to find out just how seriously.
We had been fortunate enough to be granted places in the AMV creative department and in Richard's and John's group, now we had to prove we were up to it.
And for me, a so-called writer in a 'writer's' agency, this meant being under the exacting wing of one Richard Foster.
There are so many stories I could relate that would give a sense of what it was like at that time for an aspiring young writer to work into Richard.
I'll share two.
Within weeks of joining AMV, Greg and I wrote a press ad that subsequently made its way into the D&AD annual.
It talked to the durability of a Volvo car and was a picture of a guy getting into his Volvo outside the Stock Exchange accompanied by the headline 'The clever money is in galvanised steel.'
Richard and John liked the ad, David liked the ad and so did the Volvo client.
It was going to run – whoopee!
But first, I had to write the copy.
This I did or rather thought I had until our next review with Richard.
Proudly offering him a sheet of typed A4, I breezily declared 'Hi Richard, I've written the copy for the Volvo ad.'
Affording my effort his consideration, Richard soon lifted his eyes from the paper to me and replied simply 'No, you haven't'.
It was in this moment that I began to learn the standards I was going to have to live up to if I wanted to survive, let alone thrive at AMV.
And it was in this moment that I was first introduced to Richard's red felt tip pen.
This pen was to become very familiar to me over the ensuing months and, in those early days, worked hard on my behalf.
On this first outing, by the time Richard had deployed it to eliminate anything he didn't like there wasn't actually any type left visible.
And as John and Greg slunk away, Richard spent fully ten minutes explaining to me that the drivel I had served up was woefully short of the standard of writing expected at AMV.
Richard explained how to construct a reasoned argument with a beginning, a middle and an end.
He pointed out the virtue of fact over supposition and waffle.
He taught me how to make one paragraph flow inexorably into the next.
And he suggested I spend some time with the Volvo and Sainsbury's guard books.
Suitably chastened but highly motivated, I spent the next three nights holed up with said guard books and at my typewriter.
(No Macs yet, of course.)
I pored over David's and Richard's famous ads.
I read and re-read their copy.
Their writing was so simple.
It seemed so effortless.
But as I came to understand, the appearance of effortlessness requires an enormous amount of effort.
I think it was fully seven or eight revises later that my copy was finally approved by Richard.
I was exhausted but elated.
Over the ensuing months, many more of my offerings were subjected to trial by red felt tip pen.
And then one day something miraculous happened.
Greg and I having had a double page spread for Sainsbury's approved,
I wrote the copy and, now with improved confidence, was ready to submit it for Richard's appraisal.
As ever, Richard gave what I had written his serious attention.
And then, looking up at me from his seat, he handed my sheet of A4 back to me and simply said ' Yeah'.
Those who knew Richard will know that his 'Yeah' was actually more of a deep 'Yuuurhhh!' and communicated, as succinctly as was possible, his approval.
It is difficult to convey how much of an achievement that moment felt.
In a few months I had been on an important journey.
I had listened, applied myself, learned and improved immeasurably.
A lot of young creatives today might well consider all of this quaint.
I've heard it – 'What does it matter? It's only body copy for a press ad.'
But this misses the point.
In my early days at AMV and with Richard's guidance, it wasn't just how to write a piece of copy that I learned.
I learned the virtue of simplicity, of discipline, of being succinct, of clear thinking, of standards, of excellence, of taking pride in everything you do and, yes, of the appearance of effortlessness.
I said I'd share two stories.
If you're still on board, here's the second.
Approaching Christmas one year, Greg and I were briefed to announce in a full page national press ad that Sainsbury's, for the third year in succession, had been voted 'Wine supermarket of the year'.
Our job, essentially, was to make a simple statement of fact interesting, eye-catching, witty perhaps in order to stand out and be memorable.
I cannot imagine how many ideas we showed Richard and John but concept after concept was rejected.
What we thought perfectly good ideas were deemed not to be so by our demanding group heads.
And then, to ramp the pressure up just a little, Richard announced to us that if we didn't crack the brief by the time of the creative department Christmas lunch, we wouldn't be going.
Greg and I were not sure whether Richard was serious about this but it certainly focused our minds.
For young creatives in the department, the Christmas lunch was not to be missed.
It was a chance to rub shoulders with the seniors, to have a few drinks (a few?) and a lot of laughs.
Nevertheless and despite our best efforts, as the day drew near we still hadn't come up with anything that met with Richard's approval.
The day itself arrived.
Surely Richard wouldn't follow through on his threat.
Well, he certainly kept a poker face and as people began to get their coats on Greg and I were feeling mortified.
Suddenly, the department was empty save for one young creative team staring at blank layout pads.
And then – wham! – it came.
Remove the letter 'e' from wine and what have you got?
Imagine a mythical mahogany door deep in the corridors of Sainsbury's head office.
Individual brass letters screwed into the mahogany prestigiously spell WINE DEPARTMENT.
But somebody has cheekily removed the 'E', leaving just visible the outline of where it had been.
Under this visual runs the simple, factual headline 'For the third year running, Sainsbury's has been voted Wine Supermarket of the Year'.
Breaking the world record for scamping up a layout, Greg committed it to a cardboard tube and we legged it down to the Halepi restaurant in Bayswater.
Bursting through the door, we sought out Richard who looked surprised to see us.
Unsheathing our layout, we spread it on the table over his Dolmades and Kleftico.
I cannot be sure but I think I remember Greg having the balls to announce 'We've cracked it, Richard'.
As so many times previously, our submission was afforded due consideration before Richard looked up at us, smiled and said 'Siddown'.
I think it fair to say Greg and I got very, very drunk that afternoon!
So what's all this about?
Why am I sharing these stories?
Again, some might feel all of this unnecessary – a little too hard, perhaps.
Well, I can tell them for an absolute fact that they would be wrong.
Because there is not a doubt in my mind that if it hadn't been for Richard's tough schooling and the standards he set me in those early days, I simply would not have been equipped to enjoy the career and achieve some of the things I have.
And don't get me wrong – it wasn't all hard yards and deadly serious.
Greg and I had some great times and laughs with Richard and John.
And they would give us huge credit when we'd earned it.
I remember Richard appearing in the doorway of our office one day.
He'd come back from D&AD judging and he was both proud and thrilled to tell us that work we had created had got 'in the book'.
When I finally left AMV in late '95 to take the opportunity of joining Leo Burnett as a creative director (group head in old money), in no time I began to truly value everything I had soaked up at AMV.
Honestly, the difference between the two agencies at that time was like falling off a cliff.
But I had a fierce resolve that all the hard yards and learning were not going to be wasted.
I was determined not to compromise on the standards that had become a part of me in my time at AMV.
A number of people inspired me in my time at this wonderful agency.
David, of course, with the tone he created for the entire agency and with the example he set every single day.
My partner, Greg, who frankly was better than me when we teamed up and when we won our jobs at AMV and who I was lucky to be teamed with in the first place.
Tom Carty and Walter Campbell who hit the agency like a tornado and inspired me not just through the work they created but with their work ethic, their friendship and their humanity.
And, of course, Richard.
So much of my learning came directly from Richard – from the standards he set me and the guidance he gave me.
In subsequent years I would bump into Richard at industry functions.
On these occasions he was unfailingly generous and complimentary.
'We love your McDonald's work'.
'How the fuck did you get that Heinz Salad Cream campaign through?'.
'Nick, your Smirnoff commercial is brilliant', followed of course by a forensic breakdown of exactly why he thought so.
I last saw Richard a couple of years ago at a drinks reception in an art gallery off Piccadilly.
Inevitably, once he and I got together we talked too much shop.
Not for the first time, Richard told me how proud he was of the work I went on to produce both as writer and Executive Creative Director.
And not for the first time, I told him what a critical part he had played in this.
And then, just a couple of weeks ago, I received an email from Richard addressed to many of his friends from AMV.
I was shocked and deeply upset to learn that Richard was terminally ill.
I wrote to him.
I told him that if he still had his famous red felt tip pen, I'd be grateful if he would run it through every line of the copy he'd sent us.
Because, I explained, it was the only thing he'd ever written that I didn't like.
Rest in peace, Richard.
And thank you for everything you gave me.