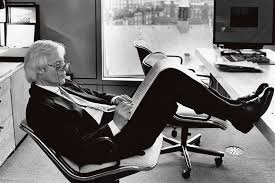 About a year ago I was listening to a podcast called The Plot Thickens. The subject was the messy production of the movie The Bonfire of the Vanities. As the story unfolded I realised that the format – a documentary of a subject told over several episodes, with interviews featuring the participants – might lend itself to something in the world of advertising.
About ten seconds later I knew that 'something' ought to be David Abbott.
For those of you unfamiliar with his work and legacy, David was arguably the greatest advertising person the UK has ever produced. He is without doubt the greatest British copywriter of all time, and that achievement alone would make him a worthy subject of a retrospective, but he was also one of the founders (and subsequent Chairman) of one of Britain's best ad agencies, which is still going strong. He's a former President of D&AD, and the recipient of its President's Award, and he managed to produce a ridiculous 247 pieces of work worthy of inclusion in its annuals. He gave us JR Hartley looking for his book on fly fishing, Bob Hoskins reminding us that it's good to talk, and The Economist poster campaign, still the gold standard for both copywriting and billboard advertising, despite ending in 2005.
But if you listen to these episodes, you'll discover that he was also a brilliant account person, strategist, leader, friend, and, improbably, comedian.
He really deserves a biography, and if anyone reading this would like to take the subject on, perhaps here is a good place to start. However, in the absence of a 500-page book, I suppose this podcast series is the next best thing.
My plan was to speak to people as possible who had worked with him and build up a portrait of David over a few episodes, so I started with my version of the 'low hanging fruit', by which I mean people whose email addresses I had to hand: Peter Souter, Dave Dye and Paul Burke. I hadn't really intended to go much beyond them, but as they offered their thoughts, feelings and opinions of David, I soon realised I'd have to find others.
Next was Mike Griffin, a friend of mine who worked for David for many years. He mentioned other possible interviewees and the ball was well and truly rolling: Brian Byfield (David's former art director); John Field (David's head of production for over twenty-five years); John O'Driscoll (a creative who worked for David at both DDB and AMV, and the co-creator of the website David Abbott Said, from which I took the first two episodes); John Kelley (John O'Driscoll's former creative partner, who worked at AMV through most of the 1980s); Cathy Heng (a great art director who began as a junior under David at French Gold Abbott); Jeremy Miles (former Vice-Chairman as AMV, who started there as a junior account person on Sainsbury's); Mary Wear (a senior creative hired by David in the mid-1990s); Ken New (head of media at AMV and a close friend of David's); Alfredo Marcantonio (former client, then creative colleague and friend) and Tim Delaney (another of the UK's greatest copywriters and creative directors, who was almost contemporaneous with David).
I also spoke to Peter Mead and Adrian Vickers, the M and the V of AMV. Their telling of the early days of the UK's best agency is worth the non-existent ticket price alone.
I'd like to thank them all for the kind gift of their time.
We begin with two episodes of David in his own words, all taken from Davidabbotsaid.com, a site I urge you to visit because it contains exactly the same interview, but alongside footage of David. I hadn't planned to include it, after all, it already exists and is easily accessible, but during the edit I felt that there was an enormous David-shaped hole amongst all the excellent testimony. That hole has been filled, and you can now hear David's voice in convenient podcast form.
Although I started this in December 2021, the process of tracking people down and interviewing them, along with lots and lots of editing, all while spending a great deal of time on my day job, took longer than I expected. I tried to collect the words into themes, giving us the opportunity to spot threads and patterns that might inspire further impressions. They are loose and imperfect, but they basically hang together to form discrete narratives.
I added my own thoughts in one episode because I crossed over with David for six months as a very junior copywriter back in 1998. I won't repeat here what I said there, but I just wanted to make one thing clear: no matter how completely I managed to do this, I could never really convey the totality of David Abbott. Next month my Creative Review column will act as a companion piece to this post and the podcast episodes, offering a 900-word primer for the uninitiated, but it still won't be enough.
Mary Wear said it best when she pointed out that the truly wonderful thing that David did was to encourage us to aspire, but not in the current advertising sense of wishing you had the latest phone or a six-pack beach body. Instead David gently, intelligently and brilliantly encouraged us to aspire to be better people. Better spouses, better parents, better kids, better pet owners, better cooks, better friends… and all in the service of improving our own lives and the lives of those around us. It was purpose-based advertising before that became an excuse for chocolate bars to save whales, and every word he wrote was linked to the commercial improvement of a product or service.
But just because it's impossible to entirely capture David, that doesn't mean it's not worth trying. If you listen to these episodes you should get a much greater sense of who he was and how he contributed to us all, especially those of us who have worked in advertising.
If you've ever felt The Economist could make you a bit more interesting, BT could help you stay in touch with an old friend, or Sainsbury's could provide the ingredients and inspiration to create an excellent meal, you now know who to thank.
I hope you enjoy listening to the episodes as much as I enjoyed putting them together.
I have done my best to add them in chronological order, so here's the last of the seven, called Final Thoughts. If you have trouble with iTunes or this site, you can also find the whole series on Soundcloud.