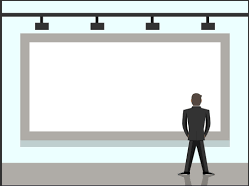 A few weeks ago I read a couple of posts from The peerless Bob Hoffman. He made some very interesting points about whether or not 'creative' advertising was actually more effective than the shitty stuff.
He came to the conclusion that it was hard to prove anything conclusively. I'd go into more detail, but instead I highly recommend reading the posts; they're far better than any rehash I could muster.
But this lack of certainty got me thinking: never mind whether or not 'creative' ads worked better than 'non-creative' ones; does advertising work at all?
Dear reader, you've seen the title of this post, so you know where I'm heading, but I have to say, we do our job on shaky ground.
Those of you that listened to my podcast chat with Blackcurrant Tango client David Atter will know that advertising is just 5% of a client's job, so there are plenty of other elements involved in marketing, including pricing, distribution and developing the product in a way that will make it attractive to buyers. In effect, advertising can only do so much, and if your local shop has a Twix but no Dairy Milk, no amount of drumming gorillas is going to create a sale for Cadbury's.
Of course, it's more complicated than that. So-called 'brand' advertising (all advertising is brand advertising; I mean the stuff that doesn't directly ask you to buy anything) might get you to make a purchase six months after you see it. Or it might combine with a few endorsements from friends, or a newspaper article that gives it a favourable mention, to give you suffiecient inclination to buy. I remember a brilliant cartoon from the excellent Marketoonist which showed someone seeing an ad for a pair of shoes pop up in several different communication channels. He finally buys them after they appear on his phone, and the stoopid marketers take this as proof that mobile advertising must be the one that clinched the sale.
So it's vague at best, and that's before we discuss that uncomfortable moment when Proctor and Gamble cut their digital ad spend by $200m and saw reach go up by 10%. Or the time Uber cut their digital ad spend by two thirds and it made no difference to their business. And if you really want a deep dive into whether ads actually work, have a listen to these Freakonomics Podcast episodes on that very subject (one episode covers TV, the other, digital).
I genuinely spent a few days around Christmas wondering if this colossal industry, fueled by hundreds of billions of dollars, and the foundations behind the vast majority of the internet, TV, Radio and lots of other things you love, actually did anything at all. And, perhaps more importantly, could any effect be proven?
Sure, there are Effies and IPA Effectiveness Awards (isn't there even a Cannes Effectiveness Lion?), but we've all put together case studies that massage slightly underwhelming truths into culture-defining fibs. The very point of our industry is to show the best side of something, so the idea that we wouldn't do that for ourselves is laughable.
Then what makes me so sure ads have any effect? Well, it's very simple: I've done things because of advertising, and I don't think I'm alone.
I know I've bought Levi's, and considered them somewhat cool for decades because of ads. In the 1980s my friends and I bought Black Levi's and put metal combs in our back pockets because someone wrote, produced and showed us this:
And it wasn't just good ads. This tedious fucker played before every single movie, but people in my school chewed a lot of gum because of it (and possibly kept some around on the off-chance they could share it with some unsuspecting young lady):
Before 1999 I had tried a single sip of Guinness, but found it to be disgusting. Then this made me order a pint of something I knew I hated:
I don't know how to join the dots to and from every ad and every purchase, but I know there were many, many things that I chose to wear, eat, visit and travel on simply because the people behind them had created messaging that somehow encouraged or validated those decisions. I even started my pension early entirely because of an ad I read in D&AD's The Copy Book.
So advertising works if it catches the right person at the right time in the right way. Yes, it's impossible to guarantee that effect, but you have to buy a ticket if you want to win the lottery. Imagine if no ads existed, by which I mean think how you might make your purchasing decisions. Anyone trying to launch a product has to find some way of getting people to know it exists. What would they do without what we do?
It's true that the examples above, and most of the others that had the deepest effect on me, were well-made TV commercials. I can't recall consciously buying anything because of an ad on Facebook, or a crappy banner on the Guardian's website. That might be why I feel somewhat biased towards the older, more traditional media – the stuff that could cut through culture, defining it alongside books, movies and TV. Does digital do that? If I'm basing this off personal experience (and the P&G/Uber examples above) perhaps not. Then again, it seems odd that people would expend so much time, money and effort on something that was genuinely useless.
So that's my case for our industry. I believe it's what a methodology hawk like Bob would call anecdotal evidence. But as a wise man once said, all evidence is anecdotal.